Testimonials
Heinz Powell -

"Hello JoAnn,

Thank you for the information and photos. I am very pleased with the way you took care of things and we are looking forward to receiving the vehicles in Bremerhaven. I will gladly come back to do business with you again and also have no problems with letting other people know that you do good work.
Thanks again and I will let you know how things turn out."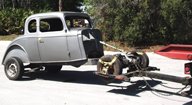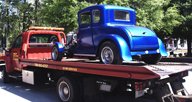 ---
Ronnie Clowes
-

"Jo Ann,
Just to let you know that we received our shipment yesterday as scheduled.
I cannot thank you enough for the ease of working with you and your company. Working with someone that we simply "found on the internet" made us a little apprehensive, but your ongoing communications and professional manner of doing business gave us a feeling of comfort. You took care of everything just as promised. We will definitely recommend you to others who have similar packing and shipping needs in your area.
Thanks again. May you, too, have a wonderfully blessed day!"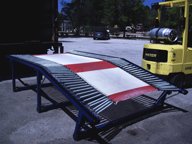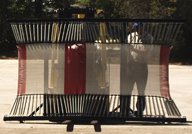 ---
Toby Buechner
Owner, Troy Gymnastics, Inc., Troy, MI
-

"Melissa - I was an automotive engineering manager at a fortune 200 company for 16 years. I worked extensively with our logistics department. I began Troy Gymnastics 5 years ago. 3 years ago, I left engineering, and my gym became the largest gymnastics facility in Michigan. A couple of months ago, I wanted to ship a trampoline from FL to my facility. I called my auto contacts. A customer recommended you guys. You blew them out of the water price-wise, and your service was excellent. I am in the service industry and appreciate it very much when it is great. I will be calling again."
---
Lynn Taunton
-

"Hi Kevin,
If I were filling out a survey with ratings from one to ten, you would receive all twelves. Your individual attention was, in every instance, professional, prompt, congenial and obliging. The shipment arrived with absolutely no damage and my son commented that the packing was far superior to anything he had anticipated.
I have dealt with many people in the service industry and very few have left me with the positive experience that you did. You are a credit to your industry.
I have your business card and will ship with you should I have any further need. I will also highly recommend you to anyone I know who requires packing and shipping services. Thank you again."
---
Jane Zulian
-

"Peter & Staff,
Thank you for an awesome job. Not even the dust was disturbed on the furniture! If you ever need a testimonial just call, you guys went well beyond what I expected. Well worth the extra cost. I must add the Yellow Roadway driver was also impressed! He said he has been seeing more your company packing & shipping and has never had a problem because it is so well done.
Thank you so much!"
---
A.V.Sridhar
-

"Alan's team had done a very professional job when I had to move from Lake Forest, CA to Eagan, MN. His team came on time. These people were very courteous. The packing was excellently done and the shipped goods arrived on time. I highly recommend Navis Pack Ship at Laguna Hills, CA for anybody who care to ship their goods safely and economically!!"
---
Christina
-

"We recently commissioned a painting entitled "Christina" from the famous artist Peter O'Neill. The painting was featured on your Facebook site recently, with our consent. We considered driving from Ft. Lauderdale to St. Augustine to pick up this beautiful painting so that it would not get damaged, but the studio recommended Navis Pack & Ship as a trusted shipper for fragile fine art. Comparing the price to have it shipped and that of driving, hotel, gasoline, and meals and the price was much the same. So we took the easy method and shipped it. It arrived without a scratch, dent or flaw of any kind. When we opened it we found that the painting was first wrapped in a soft but sturdy padded paper, than wrapped in bubble wrap and finally placed in a solid cardboard box that matched the painting perfectly to avoid movement within the box. Great job Navis. Oh by the way, the staff that we dealt with was super!"
---
Steve Poulin
-

"Peter, breakfront cabinet arrived safely this AM. Fabulous packing job! I am a museum conservator by trade, for over 30 years now and you surely have ex-musuem staff on board. It took me hours to unravel, but also have enough clean packing materials for my paintings and works of art until I retire. Your packers know their stuff. I would not hesitate to recommend Navis to any of my dealer and collector clients. Will also email Stenella Antiques in PA with similar praise. Thanks also for guiding me through the complicated world of cross border shipping."
---
Jane Calhoon
-

"Thank you so much for the heads up phone call regarding the shipping of my art. I received the package yesterday. The paintings were expertly packaged and I want to thank you for that and your assistance. I will definitely use your company in the future as well as recommend you to others."
---
M. Salinas
-

"I just finished unpacking and was thrilled with the results! Valuable art was in perfect condition as was the 55" TV. I have been singing you praises to everyone. Thank you so much!"
---
Mark Wolf
-

"I wanted to send a follow-up of my own to convey my compliments and astonishment at the intense level of care used to pack my shipment. Each item was carefully wrapped in a 2-ply paper and then secured in its own custom-fit box. I was concerned when I couldn't find my box cutter. What a relief to find that the boxes would fall apart on their own when a few staples were removed with a claw hammer. "Well-wrapped" is hereby nominated for understatement of the year."
---
Elyse
-

"Just wanted to thank you for making the transport of the furniture arrangements so easy and professional your guys were really helpful to my client in getting the piece in the house. I will contact you again in the future if I find anything else up there thanks again you were great!"
---
Marc
-

"Elvis photo arrived on time as promised, packaged beautifully, and in pristine condition. Thanks for the pleasant experience."
---
Widget Ewing
-

"Once again, you and you're company came through with flying colors. You are prompt, so professional and all is packed up "ship shape" as my dad used to say."
---
Steve
-

"Thanks for the outstanding job you and Jacksonville Navis Pack and Ship did in moving two pieces of furniture from our home in Florida to relatives in Texas. We appreciate the fair price you gave us (which you held to throughout), that you showed up on time to pick up the furniture and delivered it on the promised date to our relatives' home. The men who handled the furniture at both ends were extraordinarily courteous and professional. The furniture arrived without a scratch and, as promised, they put it exactly where our relatives wanted it (second floor no problem). The next time we have a need for moving a few items or many we will go to Navis without hesitation!"
---
Lily Landers
-

"I just unpacked the last of my grandmother's furniture that you packed up and shipped out to me well over a year ago (it was stored in the garage while my house was under construction). Thank you for doing such a fabulous job. Each piece was wrapped with such care and everything arrived in perfect condition. I was blown away by your efforts and I am so appreciative that Navis Pack and Ship played such a large role in preserving my grandmother's legacy. I would recommend your company to anyone; if you ever need testimony from a satisfied client, please let me know because I cannot sing your praises enough. And of course, feel free to use this email as feedback for your website. I hope you are having a great summer and thank you again for doing your job so well."
---
Stephen and Donna Wall
-

"I picked up my shipment last Thursday, from the YRC freight terminal. I was extremely pleased with the packing. In a word, Wow! I have never seen such quality packaging. All the furniture arrived in perfect condition. It would have required nothing short of a hurricane to damage such a well protected shipment."
---
Michele
-

"As you may know, the shipment arrived yesterday.
Thank you SO much for your careful and thoughtful packing. It means so much to us when we know we can count on our business partners to respect our equipment and watch out for its well being as much as we would if we packed it ourselves."
---
Chris Rideout
-

"I must tell you how pleased and impressed I am with the packaging that made it possible to ship that coffee table intact ( !) across Canada. Even the staff at Global gathered around and admired the work.
My sincerest thanks to the people who took the time to package it in such a professional manner and in such a secure manner as well. It is a real treat to deal with a company who takes the time to take an interest in a customer."
---
Mildred Wilborn
-

"This is to inform everyone that the 25 PC's were received by FOCW yesterday afternoon.
A special thanks to Jim and his Staff for their great and prompt service. We are extremely happy with the kind of service we received from your company and will definitely be using it in the future.
Keep up the great service!"
---
Mike Amann
Founding Partner, The BLDG Art Gallery, Covington, KY
-

"So funny story. The guy from California contacted us about his piece. Keep in mind he spent over $5,000 on it, the first thing he said was how impressed he was with the packaging. Nice work!"
---
Bill Lorenzo
-

"My parcel arrived safe and sound on Tuesday as expected. Packing was excellent in all respects: first-rate materials, care and treatment. Also, any inquiries I had were always answered in a quick and friendly manner by your staff.
I am extremely satisfied with your services, and look forward to doing business with you in the future."
---
Gary and Deb
-

"I wanted to thank you for all of your hard work in packing up a very fragile TV and thus insuring its perfect shipping to us all the way across the US. You were kind enough to talk me thru the whole process and you were 100% right. I will be using you again and will tell everyone in our condo in San Francisco to use you."
---
Mike
-

"Both shipments arrived in superb condition. Nothing was broken or chipped. Your packing job was outstanding. During our 11 PCS moves within the states and overseas, we had never had a better packing job. I simply cannot imagine how you could have done a better job. Now all I have to do is figure out what to do with 11 30-gallon plastic bags full of peanuts….

If you ever need a testimonial from a previous customer, I would be pleased to give you a great one. Since my mother-in-law lives in Downers, there is a good possibility that I will again call upon you to pack and ship some of her belongings. If so, it would be a pleasure to have your company handle it."
---
Katie
-

"I wanted to take a few minutes to tell you how pleased I was with the service you provided in packing & shipping my 3 pieces of antique oriental furniture. They arrived at the freight station in pristine condition.

Your packing job was better than I could have hoped for, every part even hinges & handles, were so well protected. You made the entire transaction, almost effortless on my part.

I had considered flying out to California & renting a box truck to drive the pieces home. That is how important they were to me. I was on pins & needles until they were unpacked, here, in my living room.

Thank you and if I ever have an opportunity to recommend your service, you can rest assured, I will give you an OUTSTANDING A+."
---
Della Pollock
-

"You couldn't have been more considerate on both ends of the journey, conveying a much needed sense of competence and confidence--"all will be taken care of." I appreciated your updates. Sending/attending on artworks is so very different from shipments of other kinds. Feels a bit like sending and receiving a baby--your care in packing, what I heard of your conversations with Tania, and your communication with me not only made me know the "baby" was in good hands but let me shift from anxiety to suspenseful anticipation! Thank you."
---
Miriam
-

"Thanks JoAnn for everything. You all were a great help. I appreciate your kindness, your patience, your professionalism. Thank you! Hopefully, we can do business again!"
---
George
-

"I want to thank you and the Navis Team in Jacksonville for the great professional packing & shipping service you extended to me during my recent purchase of fine art from the St. Augustine / Jacksonville area. The items were packed with great care and in packaging that protected the contents very well. I was always kept up to date from your office in Jacksonville on the packing, the shipping, and the delivery of my art. I also greatly appreciated the photos which you sent me of the items before they were packed and immediately after they were packed. It made me feel as if I were your most important customer. My art arrived in great condition and on a timely basis.
Thanks again for making this experience as pleasant as the experience of enjoying the art itself. I will be sure to use Navis again when I have such packing & shipping needs and will always feel confident about recommending your services to others."
---
Charlie
-

"Jeff,
Thanks for getting the picture and table to my brother in Phoenix. He said that both pieces were packed so well, that they could have fallen off a building without damaging either.
Thanks again. I'll keep you in mind if I need your services again."
---
Tanya Cooper
-

"Hi Oleg and Ken,
I picked up my plotter last night at the shipping terminal and experienced no problems. I was really impressed with the packaging. And the machine itself is pristine. It is hooked up to my computer now and works perfectly!
Thank you both for all your help. I really appreciate it!!"
---
Sabra
-

"Dearest Kathy and Belinda;
I called because I didn't realize I had your email address. Yes, the desk arrived in perfect condition, you did an amazing packing job. I do love it.
Thank you and I will be shipping another chair with you that I have the next time I am in Sacramento."
---
Cora
-

"The shipment arrived at my Abu Dhabi home safe and sound. I was able to track it all the way with the UPS system.
Your packers are wonderful. The delivery guy let one of the paintings fall coming out of the elevator and there was still no damage. Thank you for all your kind assistance with this and my other shipments. It's a pleasure doing business with you."
---
Milissa MacLeod
-

"Thank you for the tremendous job you did on our shipment. We couldn't be happier with how well these items were packed and the care that this shipment received. We would recommend Navis Pack & Ship to our surrounding business associates to utilize your expertise. Thank you for your time and dedication."
---
Mary Hoffman
-

"My husband, Len and I want to let you know what nice, professional young men picked up my piano today. They were friendly and knowledgeable and went out of their way to take special care of my piano. We are sure the piano will reach my daughter in Auburn, which is what my mom always hoped for. It is not easy to turn over sentimental items and I thank you for your help."
---
Kym Morello
-

"I just wanted to say thank you, everything arrived yesterday safe and sound. The packing was amazing. Out of the nine places I called you were the only one to return my call and lucky us. It was a pleasure doing business with you."
---
Bruce Williams
-

"Just wanted to let you know the shipment arrived safely in Oregon. I'm extremely pleased with your service. You and your company were very easy to deal with, and I felt like I was getting excellent and personalized service from people I could trust. You were good about keeping me informed on status, coordinating things on the pickup end in Williamsburg, and your meticulous packaging was all intact when the shipment arrived. Your carrier was also very good on the delivery end. All in all, a big success. I will recommend your service to anyone I know who has a small shipment to make."
---
James Hemming
-

"We received our delivery today and everything arrived safely. These were items from my parent's estate and, needless to say they have a lot of sentimental value – especially to my wife.
I can't tell you how delighted and relieved we were that these items arrived in perfect condition. I was so impressed with the way your people packed all of these items and how well they were protected.
In this day and age, it is a real treat to deal with any company that operates in a professional manner, takes the time to do things right and delivers what they promise – in this case well packed and protected china.
Please tell your staff how impressed we are with the important packing job they did for our family!! They're real detailed professionals!!"
---
Mark Williams
SE Group
-

"I just wanted to send you, your staff, and the Navis office in Denver a brief note of thanks for taking care of our computer servers shipping project. Professional from start to finish, they arrived safe and sound and very nicely packed in the cushioned boxes. With your help, we were able to get these systems back online without any hiccups. Thanks again for a job well done!"
---
Gayle Bradburn
-

"Just wanted to tell you that we picked up the furniture today. I have never seen such a professional job of packing. I am very happy with the services provided by your company. My sister and I were at our wits end trying to get these items from Reston to Fort Worth.
I was a purchasing director for an exclusive private K-12 school in Houston for 25 years. During the last 10 years, I furnished many buildings… so I have received and unpacked my share of furniture. We had such bad experiences with furniture being damaged in shipment, that we finally had to resort to paying to have the furniture shipped to a local third party who delivered and installed it.
Thanks again for all your help and your great company."
---
Donna
-

"Friday was a busy day. I started the day showing my little girl at Canada's largest dog show at the Tradex....she trotted off with BOS (Best of Opposite Sex) which basically means she got second or best of females....hard to achieve at this level...was exciting. I decided to spend the rest of the day travelling down to see if the posts had arrived in WA. Well surprise, surprise...they were sitting in the drive way! Upon removal of the protective exterior I was overwhelmed with the lengths your packers had taken to ensure the safe arrival of the contents. It was as I had instructed and more. I could only wish all servers were as meticulous at their job as Navis. I can't thank all involved enough for continuing to make my Friday one of the BEST days of my life! Oh, the posts were fantastic too I would recommend your company to any persons requiring such a service without hesitation!
Thanks again for a job done beyond expectations!"
---
Sylvia Fletcher
-

"I wanted to drop you a line to say what a wonderful job you and your company did with packing my personal belongings, wrapping framed artwork and customizing the boxes for my antique Chinese furniture. Time and care was clearly taken. Thank you."
---
John Coons
-

"The guitars arrived today. The packaging used to send the guitars was first rate, and we sincerely appreciate the care and communication that you provided through this transaction. I would not hesitate to recommend your company to anyone who needs delicate shipping."
---
Eric
-

"Thanks again for the excellent packing, shipping and service. We purchase from auctions all over the country and this was the best service by far plus a realistic fair price. It was a true pleasure to work with you and I hope to do so with future auctions."
---
Michele
-

"As you may know, the shipment arrived yesterday. Thank you SO much for your careful and thoughtful packing. It means so much to us when we know we can count on our business partners to respect our equipment and watch out for its well being as much as we would if we packed it ourselves."
---
Mike Kilpatrick
-

"I just returned tonight from my trip to San Diego, where I set up the system you shipped. I have never seen a finer job of packing, even from the vendor when these systems shipped as new. I most certainly will call upon your company when the system is returned and will consider you in my future freight needs."
---
Antonio Elago
Earthlink
-

"The staff at Navis are experts when it comes to packaging sensitive electronic equipment and really go the extra mile when it comes to customer service."
---
Elizabeth M.
San Francisco, CA
-

"Our cross-country shipment arrived right on time (and quickly) and everything was well-packed and in excellent condition."
---
Giuseppe Concepcion Proarte Gallery
-

"Thank you for shipping our artwork so carefully. I felt like a kid at Christmas... it took me 45 minutes to open the box. In my 20 years in the art business, I have never seen anything so well packed."
---
John MacIntyre
MCSP
-

"I received the crated equipment in excellent order and was VERY impressed with the professional service."
---
Angie
-

"We are really happy with the service we have been getting from you and your team - this is the fourth server shipment with you for this specific project and there has not been a single issue. All the feedback I have received from the team here is that you guys are great to work with, your team is all highly reliable and know what they are doing, you have a very good secure and safe process and just do things right."
---
Joy & Breck Johnson
-

"I just wanted to let you know our furniture arrived today. It looks great! I just wanted to express how pleased my husband and I were with the packing of the furniture. We were so impressed with the care you took to insure that everything was secure, custom fit, and to even put protective film over the glass doors and the mirrored back of the Secretary Hutch. It was more than we expected and we knew we had made the right choice in going with your company. Thank you for the wonderful customer service and making this transaction so easy for me all the way in Lexington. Again, I just wanted to let you know how impressed we were and that if we ever have to ship anything again we will definitely go with Navis. I also recommended your services to Steve in case he has any other pieces of furniture to ship."
---
Elizabeth Nguyen
-

"I wanted to thank you so much for helping me with my move.
I know that moving is anything but stress-free but I was glad that you were there to take much of the burden off my shoulders.
Not only was I confident that my things would arrive safely during the time scheduled, I really appreciate you going out of your way in finding me a more than fair price. And when problems arose and I had to rescheduled my drop-off, I was so glad that you were able to rearrange things to make my move more convenient. I would not hesitate to recommend you to any of my friends or family.
I hope you know that you provide a service that is badly needed with a quality anyone can be more than proud of. Everything arrived to its new home safely, that is, until I got it out of the box and broke it myself."
---
Darin K. Lawson
CAAI
-

"I am the recipient of a recent shipment of 7 paintings you crated and shipped for a customer named Phil Desch. They were very pleased with the service they received at your location, and I referred them to you because of our good experience with the Navis representative here. I am encouraged that it appears all your locations have the same quality service! I also appreciate the fact that you shipped all 7 paintings in two, well-packaged crates, rather than creating a crate for each piece (which I've seen other franchise shippers do), which is a terrible waste of time and money, as it appears you are aware. Thanks again for providing good service."
---
Steve Croy
Virgin Entertainment Group
-

"I occasionally find myself in need of bulk shipping services for some rather oddly shaped, large and heavy technology components to our various technology co-locations and retail stores all across the country. Navis has provided excellent prompt response, efficient and sound packing, no matter what the size, shape or weight, as well as outstanding turn around, shipping and as promised delivery. After doing some comparison-shopping, I have found no other company can beat Navis in terms of value and service. I am very glad I found Navis and will definitely call upon them again in the future."
---
Denise Parri
Director of White Space, A Fine Art Gallery, New Haven, CT
-

"You are the 'worry free' transportation masters."
---
Sholem
-

"I meant to write earlier -- but what with preparing for my show, and then going down to New York, I've been very preoccupied. But I did want to let you know how much I appreciated my experience with you and Navis, from the initial phone call to the delivery of the shipment. After going through hell's half-acre just trying to find a freight company that would handle artwork, everyone I dealt with at Navis was friendly and helpful on the phone, responsive and prompt through email, and generally made the planning stages of the shipment a breeze. Your delivery-men showed up exactly when they said they would, were professional and respectful with my shipment (which is no small thing when we're talking about original artworks). The crates (and, needless to say, the paintings inside) arrived in perfect condition at the gallery, in exactly the time that was quoted to me.
So I wanted to let you and everyone in your office that I was extremely pleased with the service at Navis. I will absolutely recommend you to any of my artist friends who need shippers, and you can rest assured that I will definitely be using your services for any future art shipping that I might need to do."
---